Holly Kearl is an expert on the topic of gender-based violence, including street harassment and sexual harassment in schools and on college campuses. She is the founder of the nonprofit organization Stop Street Harassment and a consultant for organizations like the United Nations, the State Department, One World Education and YOU.
She also works as a part-time facilitator for the Op-Ed Project's Public Voices Fellowship in Tucson, Arizona, and an adjunct professor of Women's Studies at George Mason University in Fairfax, Virginia.
She has authored two books, 50 Stories about Stopping Street Harassers (2013) and Stop Street Harassment: Making Public Places Safe and Welcoming for Women (2010) and two national studies, Unsafe and Harassed in Public Spaces: A National Street Harassment Report (2014) and  Crossing the Line: Sexual Harassment in Schools (2011).  Since 2010, she's given 125 talks, nearly 200 media interviews, and authored more than 50 published articles on these topics.
Kearl received a master's degree in Public Policy and Women's Studies from George Washington University and bachelor's degrees in history and women's studies from Santa Clara University.
Street Harassment: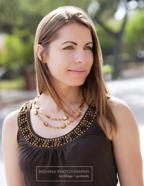 Tired of strange men whistling and honking at her, calling out to her, following her, and grabbing her when she was alone in public, Holly wrote her master's thesis in 2007 at GWU on gender-based street harassment and how women were using online websites to combat it.
* In 2008 she founded an anti-street harassment website and blog and began working on an anti-street harassment book.
* In 2010 she wrote one of the only books about street harassment: Stop Street Harassment: Making Public Places Safe and Welcoming for Women (Praeger Publisher, 2010).
* In 2011, she founded International Anti-Street Harassment Day, the first annual commemoration took place March 20, 2011 It expanded to a week in 2012: Meet Us on the Street: International Anti-Street Harassment Week took place March 18-24, 2012 and again on April 7-13, 2013.
* In 2012, Stop Street Harassment became a 501(c)(3) nonprofit organization.
* In April 2013, Holly left her full-time job to devote more time to building SSH the nonprofit. Read about the work of SSH.
* In September 2013, Holly published her second book, 50 Stories about Stopping Street Harassers. She testified at the second-ever hearing on street harassment in Philadelphia in November 2013.
* In June 2014, Stop Street Harassment released a national report on street harassment, authored by Holly.
Other highlights:
On Oct. 28, 2010, Holly testified before the New York City Council during a hearing about street harassment.
On Nov. 23, 2010, she presented at the 3rd International Conference on Safety for Women: Building Inclusive Cities in Delhi, India.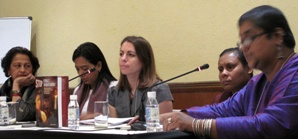 In 2011, Holly joined the board of Collective Action for Safe Spaces and participated in the elite Women's Media Center Progressive Women's Voices training.
In 2012, with Collective Action for Safe Spaces, Holly helped launch an anti-harassment campaign on the Washington, DC Metro system, including by testifying before the DC City Council in February 2012.
Also in 2012, she traveled to both Cairo, Egypt, and Pine Ridge Reservation in South Dakota to research street harassment and meet with activists and community members in each location to hear their stories.
In 2013, she testified at the Philadelphia City Council hearing on street harassment and released her second book on the subject.
Consultant:
After leaving her full-time job in April 2013, Holly has done consultant work for UN Women, AAUW, the U.S. State Department, and One World Education.
In November 2013, she started as a part-time facilitator for The OpEd Project's Public Voices Fellowship in Tucson, Arizona.
In June 2014, she became an adjunct professor at George Mason University in the Women's Studies department.
She is available to do other consultant projects. Her expertise includes: writing, researching, website editing, and social media, and topic specialties: gender violence, sexual harassment, street harassment, and Title IX.
Non-Profit Work: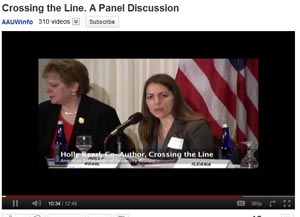 From 2007-April 2013, Holly worked for AAUW, a national women's equity nonprofit organization. She oversaw the Legal Advocacy Fund and Campus Action Project. She is the co-author of a national report on sexual harassment in grades 7-12, Crossing the Line: Sexual Harassment at School.
Prior to her position at AAUW, Holly worked in various positions at the National Women's History Museum from 2004-2007, starting as a summer intern before her senior year of college.
Education:
George Washington University
MA Public Policy & Women's Studies (2007)
Santa Clara University
BA History and BA Women & Gender Studies (2005)
Studied abroad for a year at Lancaster University, UK (2003-2004)
Other: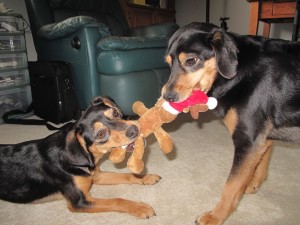 Holly lives in a suburb of Washington, D.C. with her domestic partner Mark and their two shelter dogs Da Vinci and Kelly.
Holly is a long-distance runner who ran her first 5k at age 8 and her first marathon (26.2 miles) at age 14. She ran varsity cross country and track in high school and part of college. Today, she runs in several road races each year and the 10k is her favorite distance. Because Holly has faced so much street harassment while running over the years, when Mark and Holly bought a house, they purposely picked a place near a high school track and trails where Holly now runs mostly harassment-free.